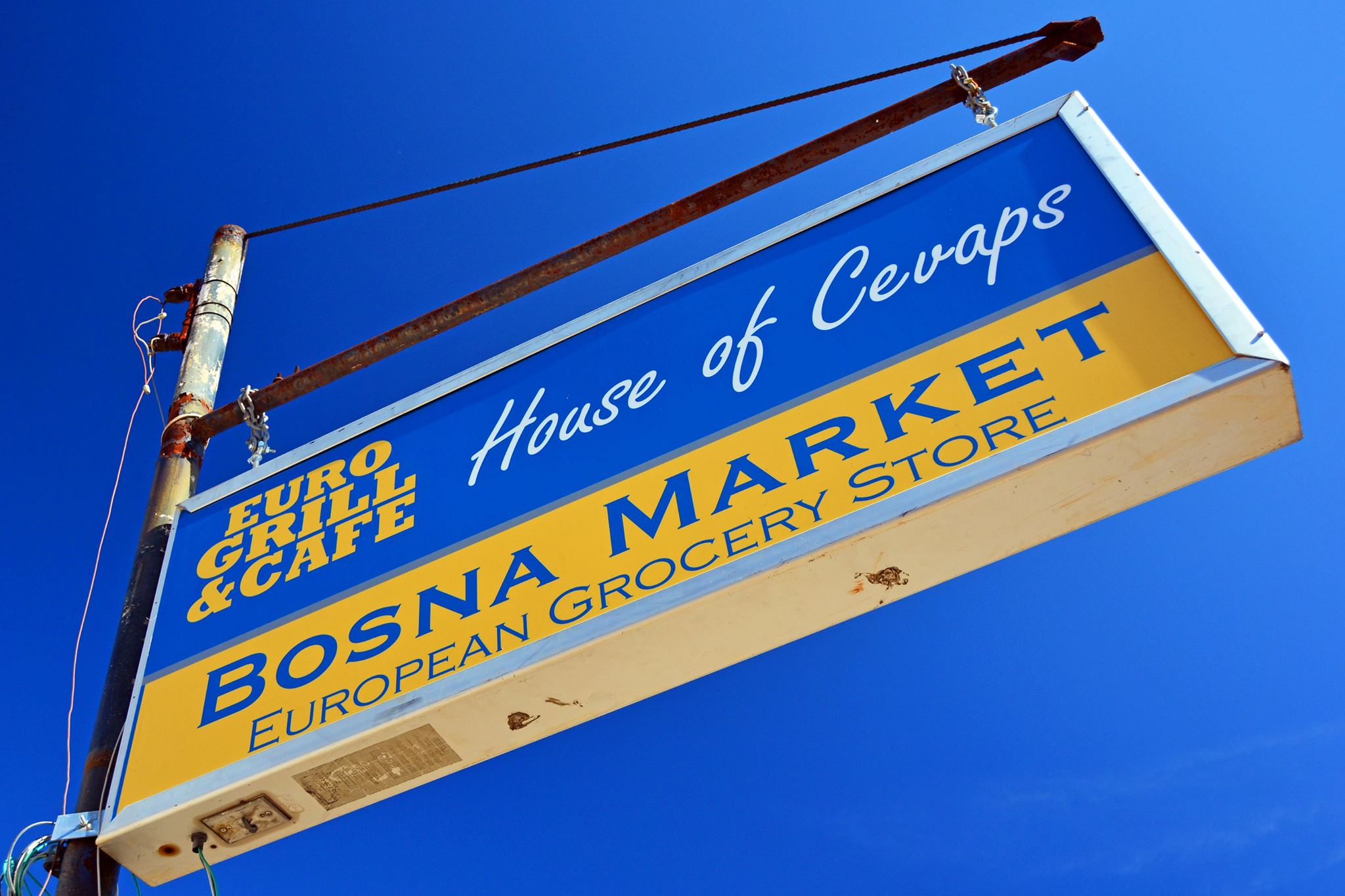 2719 Central Ave
Charlotte, North Carolina 28205
It's no secret that Central Ave is the hub of international foods in Charlotte.  This stretch nestled between the Plaza Midwood & Commonwealth neighborhoods is a deliciously diverse area that offers Vietnamese, Chinese, Jamaican and Ethiopian cuisines among others.  Since 2003 it has been home to Bosna Market and Euro Grill & Cafe.  Originally from former Yugoslavia, owners Dino and Amela Mehic have poured their hearts into bringing foods from 'back home' to the Queen City.  Come for the market's wide variety of chocolate and stay for lunch at the cafe!
You can't go wrong with anything on the menu, but hands down, our favorite meal is cevapi with lepinja…  The better version of a hamburger; cevapi (che-vah-pee) are small skinless beef sausages, unlike anything you've ever had on lepinja (lah-pin-yah), a soft white bread served with chopped onions and ajvar.  Ajvar (eye-var) has been likened to Bosnian ketchup, but is richer and tastier than tomatoes and vinegar.  It's a blend of roasted red peppers, onions and occasionally eggplant that is the consistency of a marinara sauce.  It pairs beautifully with grilled meats and veggies.
Any time of day is appropriate for pita; not the unleavened bread, but the Bosnian delicacy of layered phyllo dough with cheese. The heartier version is burek, filled with ground meat, which is perfection when dipped in plain yogurt or kefir. Bosnian pita travels well and makes for a great breakfast the following morning. The market side offers a frozen variety of pitas to savor at your discretion.
No time to sit and eat? Definitely check out Bosna Market's selection! On top of our shortlist is Vegeta; similar to chicken bullion, it is the universal Bosnian seasoning. Out of chicken stock? Vegeta and water will save the day! It can be included in nearly every dish to add a pop of flavor. ABC Cheese is a tangy cream cheese that spreads beautifully on bread and crackers. Treat yo'self to Napolitanke, wafer cookies in your favorite flavors. Even Bosnian Orange Fanta is better than what you can buy in convenience stores. If you're curious and don't know where to start, ask Dino and Amela, they are happy to help you find what you need… and maybe what you didn't know you needed.
Keep an eye out for the Euro Grill & Cafe food truck!