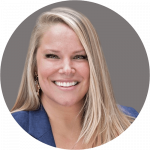 Michelle Kleven
Broker/Realtor
Michelle Kleven
While originally from West Virginia, I have called the Queen City home since 2008. I graduated from West Virginia University School of Journalism with a major in Public Relations and a minor in Applied Communications. I have a wealth of knowledge regarding the Charlotte market and love networking
. Throughout the years, I have built my business on kindness, communication and trust.
I grew up playing soccer and skiing in the mountains of West Virginia. I love spending time outside with my wonderful husband, Chuck and our rescue dog, Ruby! The thing I love most about Real Estate is fiercely negotiating the best deals for my clients and finding the perfect home.
Our clients are awesome and here is what they're saying:
"We used Michelle Kleven as our Realtor and she was phenomenal. Our new home in Myers Park is perfect and exactly the location and style we wanted. The fact that it made the list as a Charlotte Agenda Editor's Choice made it very competitive, but Michelle handled the situation perfectly and helped us close the deal without any issues. We highly recommend Michelle for your next home. The experience was a dream come true!"